This is my installation "At the Source" that participated in a group exhibition from August 1st to September 15th at Centrale Taccani, in Trezzo sull'Adda, Italy. These photos were the ones sent for the jury; the first one gives an idea of how the installation should be presented.

---
It has taken me a long time to digest this. Mistakes, failures, they're rarely easy to accept and process. So I've been disappointed, bitter, angry, feeling stupid and so on. But in order to learn, it is necessary to go through it all. Luckily there are those who have already been there and who have generously shared their experiences, so we know we are not alone!
I'm going to tell everything in detail, so before you go any further, take some refreshments with you.
Here's the story.
For those who do not know it already, I'm a beginner in the art world, autodidact and without connections in the business where I live and work. So I'm really really starting from scratch. This summer, I participated in two international art events, both being of those where you pay for your exhibition space. I have read discussions in the Internet (namely LinkedIn) about the usefulness of these things, and I can now say I finally have my own opinion (more of this at the end of the post).
The first event covered a period of three months, in Milan, during the world expo 2015. The concept was new, at least to me: a curated selection of international artists would exhibit in a fashionable area, and business events would be organised in the exhibition space to attract potential investors. Opening hours for general public were a bit difficult: office hours and only during the week, but then again the main target was the business people. The international exhibition was located in the upper floor, while Italian artists and designers had the ground floor. An auction of art works was held at some point in the course of the three months. As for the price to exhibit, I thought it expensive but worth it, judging by the location, the space, the catalogue, and the quality of the organisation team. Everything went smoothly, the communication with the artists was good, the catalogue was very nice and the people too, but I don't know if the press was ever invited there nor how the works for the auction were selected.
The second event ran from the beginning of August to mid-September, and was located in a fabulous turn of the century hydroelectric power station, more like a castle than an industrial building. A beautiful space in beautiful surroundings, in the small town of Trezzo sull'Adda, halfway between Milan and Bergamo. This event was cheaper than the first, but still expensive, and I started to smell a rat even before I got my stuff on location – but I had already paid so there was no turning back.
Why did I smell a rat then? There were two curators, and the one I had been arranging everything with through e-mails (Mrs N, an internationally recognised artist herself) stopped answering about a week before I was to bring my works to Trezzo. I never got answers to my questions about how things were supposed to go on that specific day, namely at what time the place would be open. So I took the train from Paris with all my stuff without knowing if anyone would be there when I arrived. Impossible to get through by phone – the curator's phone number (when at last I found it) was, guess what, Israeli. So yes, she is from Israel, but one would think that for this kind of event organised in Italy there would be a more convenient way of reaching her. No other phone numbers were available.
Luckily, a friend was able to take me to the power station by car. The place was open, but Mrs N was not there and the second curator, Mr G (Italian and in fact the boss of the whole thing) did not speak a word of English. I thought this was strange for someone organising an international event. Of course I had Googled him and found that he was a known art critique in Italy and had organised other art events, so I thought I had no reason to be suspicious of him. With my friend as interpreter, I explained my business. He behaved as if he did not know Mrs N (blank face, no reaction to her name) and was not aware of my participation nor of the space that Mrs N had suggested I occupy to exhibit my work. When I insisted that I was supposed to be placed in the cellars, he finally took us underground and let me choose between a few spots. I had been promised a table and sockets for electricity – but nothing was there. Surprisingly, we found that Mrs N was not only one of the curators but also one of the exhibitors, her works were not far from mine.
As Mr G. was busy showing around the exhibition to "important visitors" (that's what he whispered to us about some people from the Columbian consulate) he did not have time to attend to my needs, "oh don't worry about the electricity, we'll take care of that tomorrow, same goes for the name tag on the table, I'll send you photos of it all later". By this time my friend had told me more than once he thought the boss was an a.....e with a very unpleasant attitude. Unwillingly, I prepared to leave everything as it was, only half finished. But before leaving I asked Mr G through my friend when the exhibition catalogue (promised in the contract) was coming out and how I would get it. The reply was at the end of October and that he would send it to my friend (how, I have no idea) – but he would need photos of my works and a description text. As if Mrs N never got them. Ok, I said, I need your e-mail address – but he would not give it. Instead, my friend had to take Mr G's telephone number and call or text him in the evening in order to get it.
This sounded so bad I ran back inside and chased after the staff (no spoken English there either) to get what I needed to set up my installation properly. With the help of B, a very kind staff member who spoke some French, I managed to get everything except the name tag on my table. I exchanged e-mail addresses with him and he promised to send me Mr G's e-mail so I could send the info for the name tag and the catalogue, with a hidden copy to B himself. B would send everything to the right people if Mr G. did not make a move.  So I left Trezzo with photos of my installation, with all its pieces in place and the lights as they were supposed to be. No name tag, but a good contact with B and so hope of getting things sorted out. That evening, even if I now had a way of getting Mr G's e-mail address, my friend sent him a text message asking for it. We never received a reply.
---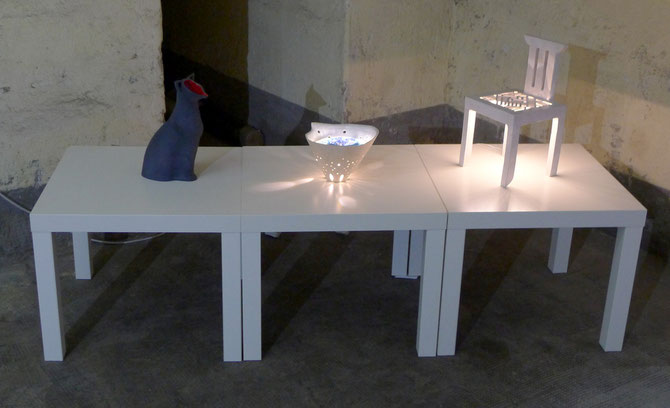 This is how I left my installation at the exhibition site in Trezzo. Originally I was to have a table with suitable dimensions; I ended up with three Ikea coffee tables put together. Not so very pretty but at least they are the same size. The name tag was supposed to be added the next day.

---
Back home in Paris I got in touch with B, got Mr G's e-mail and sent him what was needed for the tag and the photos for the catalogue. But I still had a question about the description text – I put it in English and in French, as B was getting a copy he could maybe get an answer for me if Mr G did not have the time/the skill to reply. I also sent an e-mail to Mrs N to let her know that I had not appreciated her disappearance and the strange events at the power station.
I never ever got any reply from Mr G, and my kind B disappeared into thin air too, for good, so my hopes of ever getting the name tag on the table, not to mention the catalogue, were getting rather thin. But, surprise, an answer came from Mrs N: "Sorry, call L" with L's telephone number in Italy. That's it. "Sorry". I was not going to pay international phone calls so I told her I would be needing L's e-mail address, whoever he was. She gave it, so I once again asked the same questions she and Mr G had left unanswered, and then I waited. And waited. When, after one week, there was still no answer from L, I wrote back to Mrs N again saying her contact was a dead end for me. "Oh yes" she replied "L fell ill, and we have had problems with staff, write to R". So I wrote to R. By this time, questions about how I was going to collect my stuff from Trezzo at the end of the exhibition ("was it ok for September 15th in the afternoon?") had to be added to the list. And I waited. Now it was time to buy the train tickets, and still no answer. So I wrote a new e-mail to R with an open copy to Mrs N, saying since my previous message had not been answered I had been forced to buy my train tickets and was coming to get my stuff on location on the 15th at 15:00. This was three days before my train left from Paris. R replied in the evening saying "the 15th is Tuesday, we're not open so you have to come later, between Thursday and Sunday".
Right. Since the beginning of the exhibition (1,5 months) I had been trying to get relevant information out of these people, without success. Instead, I had been taken for a fool. And I had paid a fair sum of money for it. Double fool. Now I was told I was not going to get my stuff out because "they were not open on Tuesdays"? The trouble is, I had to take the train back to Paris on 16th, to take the plane for Finland on 17th, the same day R said was the first possible day to collect my installation.
I would describe my ensuing message to R as "cold" and "assertive". In short, in consideration of the lack of communication by the organisers since the beginning of the exhibition, and in consideration of the fact that I would be on a plane to Finland on Thursday 17th, I would be at the power station as intended on Tuesday at 15:00, and the least they could do was to see that someone would be there to open the door for 15 minutes so I could get my stuff out. The day before my train left for Italy, R let me know that Mr G had "given his approval" to open the door for me but that "the chief curator himself could not be there". So finally Mr G was within reach for some people, through some means of communication.
I was now having some massive trust issues with the organisers and the whole thing, so I was expecting the worst: was my installation still there, intact? At the power station, I saw I was not the only person come to collect my work – so what was all the fuss about being closed about? Down in the cellar, I saw to my amazement that, while the three pieces of my installation were intact, they had been moved so that nothing was left of the original idea (it was not my installation anymore) and that there was no name tag on the table. For 1,5 months the place had been open to public, people had seen my work, but no-one would ever know it was mine. Then and there it really hurt to think I had paid for all this. Against the wall opposite to my table I saw paintings with a familiar name tag; they were painted by R. So he was no employee but an exhibitor.
I took photos of the new arrangement, packed everything and left. My friend and I were in the car and leaving the parking area when we saw Mr G arriving. He saw us too but I don't know if he recognised us, and anyway I was in no mood to meet him so we just drove on.
I know I'll never see the exhibition catalogue. It is mentioned in the contract signed by Mr G and Mrs N, so if I want I can have an Italian lawyer look into it. Through my friend it would not be difficult. But I'm kind of tired and want to move on, indeed I already have.
So I've been analysing all this, trying to see if there was something about the Trezzo exhibition in the first place that could have warned me not to go there. In this unpleasant task, an article in LinkedIn by Penelope Vlassopoulou helped me, and the answer is yes, several things could have stopped me, if I had had more experience and a more critical eye.
I'm not going to explain here all the 7 points of Mrs Vlassopoulou's very insightful check list but I will name those warning signs that apply to Trezzo: 1) poor level of English in exhibition documents (presentation, contract etc), 2) poor aesthetic of website, 3) expensive fee, 4) event "sold" heavily on its connection to a particular location and to the world expo 2015. These four "red lights" make the Trezzo artist call a very toxic one, to use Mrs Vlassopoulou's expression. Thanks to her, I'll know better next time.
One more element came to my mind. I visited Mr G's FB profile. It is public, but one cannot leave a message without being first "a friend". I browsed through the contents: almost exclusively photos of Mr G himself with artworks and with artists themselves, and messages from the latter. I can read enough Italian to understand the positive and thankful greetings in the messages regarding the Trezzo exhibition – what a difference compared to my experience! But these photos made me wonder, I mean what kind of art critique/curator posts a hundred photos of himself next to a painting or a sculpture?
It is this discrepancy between my experience and that of apparently many Italian artists at Trezzo that started me thinking about what was behind the whole thing. I now have a theory that covers both the Trezzo and the Milan exhibition.
I suspect that there are organisers (call them curators, critiques, gallerists, or whatever) who have a certain number of artists, let's say Italian artists, they want to promote. In order to finance the promotion of these selected artists, the organisers pick an attractive location, let's say a fashionable area in Milan (one of the art, fashion and design capitals in Europe as far as I understand) or a superb industrial site in a quaint touristic town somewhere near a big city, so that foreign (non-Italian) artists will want to pay to exhibit there. And everyone's happy: the foreigners that pass the jury get visibility in a fashionable place and maybe a nice catalogue, the organisers get good money for the space, and the Italian artists get to reap the fruit of the PR and marketing work financed by the foreigners.
There is nothing wrong with this as long as everyone wins. If I'm the foreigner who pays a high fee, I want the event to be classy and well organised, I want good communication and a pretty catalogue, so that I don't feel that I have been fooled. This was the case with my Milan exhibition, I got what I expected and wanted so everything is cool. Not so with Trezzo. If those artists on Mr G's FB page were as happy and grateful as that, it must be because he really did a good job with and for them. But I do not think I was the only person from outside Italy to have a very bad experience. For me, Trezzo was not classy, the communication was crap, my installation was nameless and transformed without permission and I have no idea what is going to happen with the catalogue. No ROI there.
So, in the end, what is my opinion on these "pay to exhibit" events? I would say most beginners with no connections, like me, need them to reach the public in order to get started in the business. But for them to serve their purpose, they need to be well organised and fair to those who pay the fees (value for money). Unfortunately they are not all like this so artists must be vigilant to avoid the "toxic opportunities", but only one's own experience and the experience shared by peers and other professionals can give us the tools to be better judges. So even without ROI, Trezzo was valuable because it taught me a lesson.

---
This is how I found my installation when I came to collect it 1,5 months later. My whole idea was ruined as the pieces had been moved - and there was no tag with my name and the name of the installation. Instead, one "Frederica Dubbini" had her name on it.